The museum is open regular hours on
every Monday holiday.
+++
Do consider giving a donation to this nonprofit museum to help us during this difficult winter.
PLEASE CLICK ON ONE OF THE FOLLOWING:
Join our nonprofit educational and scientific mission.
Directions:
For GPS purposes, enter the address you see above. We are right off I-95, then off I-295, for those driving. Avon Street is reached via Congress Street, a major throughfare in downtown Portland. Our site on Avon Street is a short street, right off Congress Street. We are hidden but easily located as being next to Joe's Smoke Shop's parking lot, going out of town down Congress Street from the Children's Museum and the Portland Museum of Art. On-street parking is available nearby, or simply use the parking garage attached to the former Eastland (future Westin) Hotel on High Street a half block away, less than a 5-minute walk. Do not park behind the Trelawny Building or in Joe's Smoke Shop, as you will be towed.
===
We have a new online museum store. Visit it today by clicking here.
The International Cryptozoology Museum™
11 Avon Street, Portland, Maine 04101
Director/Founder: Loren Coleman
Assistant Director: Jeff Meuse

Ours is the world's only cryptozoology museum.
Visit our unique gem in the beautiful city of Portland, Maine, year-round.
Museum Information
Please note. We have extended our hours on Mondays.
REGULAR HOURS
Please note, there is a "last admission" policy one-half hour before closing. Doors will be locked at those times, but visitors already admitted will have until the posted closing time to view exhibits.
Open: Mondays, and Wednesdays through Sundays ~ 11 AM to 4 PM
(Last Admission 3:30 PM)
All admission fees are cash, but our in-museum gift store is now accepting credit cards for orders of $25 and more.
Closed: All Tuesdays.
******************************************************************************************
We are normally open 6 days a week in the late Spring and Summer.
******************************************************************************************
We appeal to all ages, but the fact we can be enjoyed by children was acknowledged by the International Cryptozoology Museum being picked as one of the top five "Kid-Friendly Museums" in New England, in January 2012, by Yankee Magazine. We were voted #1 by the Maine Sunday Telegram's Readers Poll, announced in June 2012 for the "Best of the Best Family Event Location."
Our real Yeti hair samples were featured on the first season of Mysteries at the Museum,
and seen often in repeats. They are discussed in a new British documentary to be broadcast in December 2013. Photo by Ryan Dube
and make new or re-examine your childhood memories at the museum.
Admission Fees
(Cash or check only)
Babies in your arms and/or in strollers (who neither walk or crawl) = Free
Children (kids 12 and below) = $5.00 each
Everyone else (13 and older) = $7.00 each
An adult must accompany all children. Dropping off kids is not allowed.
Please place your cellphones on vibrate or silence. Thank you.
New At The Museum
Cast of 14″ Bigfoot (?) track, found by Bigfoot Bounty's Michael Merchant,
in rural area
near Burbank, Maine, July 2012.
Michael Merchant carved wooden Windigo/Eastern Bigfoot mask.
Another new arrival is Esau, as he has been named after an idea given by JW. Esau is a Sasquatch baby "reborn" doll made especially for our museum.
Gorilla babies are 50% the size of human babies at birth. But they experience rapid growth, with male gorillas being 400 pounds as adults. There is reason to consider that newborn Sasquatch might be smaller than human babies, at birth.
Come see Esau at the International Cryptozoology Museum.
You never know what celebrity you will also see visiting our museum. Most recent intriguing visitor: Talking Heads' David Byrne visiting on the Summer Solstice.
Our director, Loren Coleman, is someone you've seen on Bigfoot and cryptozoology shows since 1969. He is often your host for the day.
Several new exhibits have been enhanced or newly installed during 2013, including ones on the Dover Demon, the Montauk Monster, the Jersey Devil, and the Napes/Skunk Apes. Assistant Director Jeff Meuse has recurated our Lake Monster exhibition during August 2013. Please come visit us to see those and more.
Hollywood model maker Lee Murphy's full-sized Gigantopithecus-oriented Bigfoot head was added recently.
Jeff Johnson replica (above) of the Loch Ness Monster is on exhibit at our new well-lit ICM (below) location on Avon Street.
Photos, above/below, by Ryan Dube
New Art Routinely Added:
Art inspired by cryptozoology is being added routinely and continuously.
The International Cryptozoology Museum is expanding its collection every week.
One of our newest art additions is A Bigfoot family visits a human family's campsite, a 3D piece by artist Alec Cloud McPherson, a recent MECA graduate. We appreciate and celebrate, for example, his donation, for it is quite engaging, creative, and humorous, as are so many we receive.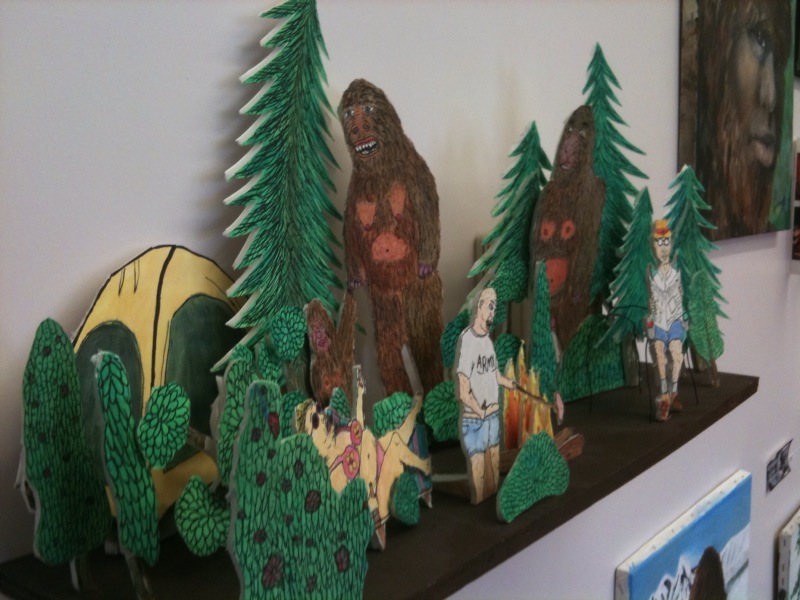 We appreciate cryptozoology-inspired art.
The International Cryptozoology Museum supports local and national artists, and its collection now contains, for example, many of Carolina artist Andy Finkle's paintings, including his representations of several cryptids and individual portraits of Finding Bigfoot's Cliff Barackman and the ICM's Loren Coleman (below). All cast members of Finding Bigfoot are in the collection now. Other researchers, discoverers, and cryptozoologists are the collection too.
One individual portrayed is National Geographic Channel's Beast Hunter Pat Spain (below). Pat is the generous donator behind the purchase of a sizable group of Finkle's paintings.  (See the gathering of many artists' inspired works in the "Art Room" at the museum, next to our main "Evidence Room.")
We receive a few thousand visitors a year. We have hosted special groups, from school field trips to college class visits, from wedding parties to national celebrities performing in Portland, from stay-at-home dads and moms looking for a unique outing to scientists here at conferences, from cruise ship sightseers to international tourists.
Several people have driven straight here from, for example, Ann Arbor, Baltimore, Florida, and northern Maine. Visitors have come from Ireland, Italy, Nepal, Australia, China, and from cities including London, Paris, Boston, New York, San Francisco, and hundreds of other worldwide locations.
Cryptozoology fans, professors, taxi drivers, writers, tattoo artists, circus ringmasters, teachers, Bigfooters, zoologists, anthropologists, students, skeptics, families, stay-at-home parents, and many people with no knowledge of cryptids have all enjoyed their visits with us.
Photo: International Cryptozoology Museum™
Above is our mid-century modern "cryptozoologist's study" art installation in the expanded ICM. The Hillary Yeti Expedition flag is the first item obtained by Loren Coleman in 1960, beginning his mission to build a historical and educational cryptozoological collection, which has resulted in this museum. Travelers appreciate the vintage settings of our exhibits, as much as the cryptozoology. In front of that area are the actual hair samples from Hillary's expedition.
Our expanded, enlarged location is located at 11 Avon Street, Portland, Maine. This is just around the corner from our former Congress Street location. Please use "11 Avon Street, Portland, Maine" for GPS purposes. It is well-worth finding our hidden gem.
Erik Gosselin's one-of-a-kind movie prop FeeJee Mermaid created for the 1999 A&E film, P. T. Barnum. 
After our massive move and re-curating resulted in a new home for old favorites: the full-sized art sculptures of the Crookston Bigfoot (by Curtis Christensen), Freaky Links' pterodactyl (by Haxan sfx), P.T. Barnum's FeeJee Mermaid (above, by Erik Gosselin), the Naden Harbor Caddy (by Lee Murphy), and other cryptid and new species replicas, evidence, and more. Our fiberglass coelacanth (from Fantastic Fish) is the only life-size exact model of the first 1938 specimen displayed in North America.
Admissions and on-site donations are welcome. Greater donations will be appreciated to help with our on-going new design, larger space requirements, and additions to the collection we are making.  Your generous support is needed and appreciated.
#######################################################
#######################################################
The museum may be open on major holidays when other museums are closed. We are open on Mondays when other museums in Portland are closed, for example. Check back here to see our schedule.  This is a public museum and appointments are not necessary. Introductory brief overviews are given as all visitors arrive, a map is distributed for free, and special off-hour tours are only available for groups at an extra fee.
The museum is mentioned on the local tourist map, on the Duck Tours and sometimes during the scenic trolley and cruise-related rides. It is easy to find. We are located on the Portland Metro Bus Route 1, near Avon Street, on Congress Street. The Amtrak train from Boston arrives a little over a mile from the museum, as do the major bus lines. It is a short cab ride from the train or bus stations.
Loren Coleman, Willow Creek, CA, 1975, with Jim McClarin's redwood Bigfoot sculpture.
The mission of the museum is to share the items cryptozoologically collected since 1960 by Loren Coleman and from other donators to his collection with the museum visitors.
The International Cryptozoology Museum™ in Portland, Maine, includes exhibits about cryptids (beyond Bigfoot & Nessie). We also feature displays about the finds of "living fossils" and other classic animals of discovery — the successful cryptozoological stories. One of the most famous, of course, is the coelacanth, as featured in the ICM logo. We have a lifesize model in the museum.
Our one-of-a-kind movie prop, the FeeJee Mermaid, is a sterling example of a fake in the museum demonstrating the skeptically open-minded approach to investigating cryptid reports to be found here. We also have a more traditionally created FeeJee Mermaid, as well, from the Miami artist Juan Cabana, shown below.
Critical thinking is important to this museum.
We have many rare and unique pieces of remarkable evidence. Some of the items on exhibit are actual hair samples of Abominable Snowmen, Bigfoot, Yowie, and Orang Pendek. A letter from the actor Jimmy Stewart is on display as he is linked to the Pangboche Yeti hand mystery. Fecal matter from a small Yeti was collected by the Tom Slick-F. Kirk Johnson Snowman Expedition of 1959, and the ICM's sample has been featured on three television series: In Search Of, MonsterQuest, and Mysteries at the Museum. A footprint cast taken in 2001, during an alleged Thylacine encounter, is among the over 10,000 items on exhibit.
A life-size model of Caddy is contained in the collection, as well as the 8 ft tall Crookston Bigfoot and a large number of Bigfoot, Yowie, and Snowman footcasts. Because Loren Coleman has been on various television documentaries and programs, there are props from Lost Tapes, In Search Of, MonsterQuest, Freaky Links, Beasts of the Bible, and other shows.
While it is a surprise, the museum was featured in History's Ancient Aliens: Aliens and Monsters, regarding the "Montauk Monster," a cryptid coined and named by Loren Coleman.
Our director, in 2011, was also found discussing Mothman on Discovery Channel's Will Shatner's Weird or What? and "Maine's Mystery Beast" and "Tom Slick's Yeti Samples" on Travel Channel's Mysteries At The Museum. You may see him in documentary television reruns going back to the 1980s, frequently rebroadcast on many cable channels. Or heard one of his 30 appearances on Art Bell's or George Noory's Coast to Coast AM.
Oftentimes, various editions of the 30+ books by Loren Coleman are available, as well as other items for sale, in the ICM bookstore/gift shop. Autographs may be obtained, when the director/author is present, as he often is, unless he is doing fieldwork or on location for a documentary taping.
This is an educational/scientific/natural history museum. As of September 15, 2011, we are an official State of Maine nonprofit corporation.
Your individual donations are important, and you will receive a letter, if requested, for your tax purposes.
Please click on the button below to take you to PayPal if you would like to assist us with a donation.
If you wish to send in your donation via the mails, by way of an international money order or, for the USA, via a check or bank money order, please use this snail mail address:
Loren Coleman
International Cryptozoology Museum
PO Box 4311
Portland, ME 04101
Thank you!!
Art by Craig LaRotonda for Yankee.
We are featured in the July/August 2011 issue of Yankee Magazine, and via a full-page ad in the August 2011 and August 2013 issues of Portland Monthly Magazine. The museum was noted as the most unique museum to visit in the "Best of USA" picks in the May 2011 issue of Reader's Digest. Numerous other awards and list selections have occurred from 2009 to present, as well as mentions and good reviews on Roadside America, Atlas Obscura, Yelp, Huffington Post, MSNBC, and Trip Advisor.
The museum has been featured on radio (in Spain, Russia, China, UK, Ireland, as well as on Radio Free Europe and Coast to Coast AM), continuously in newspapers/online news (in Huffington Post, AOL News, Christian Science Monitor, Portland Daily Sun, USM Free Press, Enterprise News, and 136 other news sites), and, in addition to the national coverage, on various local television programs (such as Boston's Chronicle and Portland's 207).
The Bangor Daily News and Lewiston Sun Journal published new articles about the museum in 2013.
The museum was featured on Mysteries At The Museum: Skunk Ape on the Travel Channel on Thursday, October 24, 2013.
Serena Altschul of CBS Sunday Morning is shown during the taping of the program at the museum (Mary Lou Teel, producer).
If you still are having a hard time deciding to visit, remember, you may wish to watch a quick video about us at this link:
 CBS Sunday Morning on November 11, 2012. 
Other televised museum appearances in 2013 include spots on TWC, Discovery, Travel Channel and other reality programming channels.  We are newly featured in Travel Channel's Mysteries at the Museum, in the "Jersey Devil" + "Skunk Ape" episodes in 2013, and in the "Fouke Monster" segment in 2014.
Ruth Harkness, discoverer of the Giant Panda, painting by Andy Finkle
Visitors' Guidelines:
Photography is encouraged for personal and educational use. You consent to allow us to use your photos in social media and publications with our permission for you to photograph our exhibits. Professional photographers please check in with staff. No filming may occur in the museum without the expressed permission of the director.
Cell phones on vibrate are required of all guests. Talking on cell phones is not allowed, and you will be asked to leave, have your conversation outside, and then granted readmission.
This is a formal collection and archival museum. Touching and handling of items is not allowed. However, we are a kid-friendly, youthful, and adult-oriented educational collection with many levels of enjoyable explorations being encouraged and possible.
We are happy to inform you we have a public restroom, greatly expanded space (pre-Oct 2011 reviews, therefore, are incorrect), and a slowly expanding giftshop with autographed books, cryptid replicas, footprint cast copies, keychains, magnets, bumper stickers, caps and teeshirts for sale.
Sorry, we do not take credit cards (yet). In our modest gift shop, purchases may be made with check or cash. There is an ATM next door at Joe's Smoke Shop.
To obtain our monthly newsletter, please click here:

Donations are greatly appreciated to support our educational and scientific missions.
Special Thanks
Assistant Director Jeff Meuse
Treasurer Caleb Cone-Coleman
Art Coordinator Andy Finkle
Routine Docents:
Coordinator of Docents Jeff Meuse
Head Guide Sarah McCann
Dustin Howe
Meghan Bryon
Loren Schriefer
Ansel Knight
Dan Knight
Stacy Levasseur
Stephen Lankford
Aurora Cobb
Erin Ellis
Special Project Docents:
Jeff Whitehouse
Andrew Cash
Eric Russell
Phil Cook
Jamerson Thibodeau
Adam Hall
Aimee Clark
Jessica Stanley
Anne Finkle
David Ewing
Brett Renaud
Steve Lord
Cosette Lanouette
Danielle McPhee
Rachel-Anne Lillie
Cassidy Harrington
Sean Libby
Board of Advisors
Paul LeBlond, Ph. D. (oceanography), Canada, Cadborosaurus: Survivor from the Deep (1995)
Michel Raynal, Ph. D. (computer sciences), France, Synthesis Series in Computer and Information Science (2011)
Karl Shuker, Ph. D. (zoology), United Kingdom, The Encyclopaedia of New and Rediscovered Animals (2012)
Charles Paxton, Ph. D. (aquatic ecology), United Kingdom
Christine M. Janis, Ph. D. (vertebrate paleontology), United States of America, Evolution of Tertiary Mammals of North America (2005, 2008)
D. Jeffrey Meldrum, Ph. D. (physical anthropology), United States of America, Sasquatch: Legend Meets Science (2006)
Henry Bauer, Ph. D. (chemistry), United States of America, Enigma of Loch Ness (1986)
Adrienne Mayor, honorary Ph. D., United States of America, Fossil Legends of the First Americans (2005)
Dan Porter, President, IdealWorks Investments, Portland, Maine.
Board of Directors
Loren Coleman, Maine, President of the Board
Jeremy Efroymson, Indiana
Caleb Cone-Coleman, Maine
Malcolm Cone-Coleman, New York
Jeff Meuse, Maine
Patrick Huyghe, Virginia
Attorney: Frederick Veit, New York
Contact Info
Loren Coleman, Director and Founder
International Cryptozoology Museum™
Post Office Box 4311
Portland, ME 04101
or
11 Avon Street
Portland, ME 04101
Email: lcoleman@maine.rr.com
Loren Coleman. Photo by Greta Rybus
The ICM was profiled on CBS Sunday Morning on November 11, 2012.
(See the video at the link.)
The screening of Cryptotrip at the museum on March 10th was a success.
Look for other future screenings of cryptozoology movies.
All Photos: © International Cryptozoology Museum™
DOCENTS are welcome.
We have a new online museum store. Visit it today by clicking here.