History of the ICM
Loren Coleman on the History of the International Cryptozoology Museum.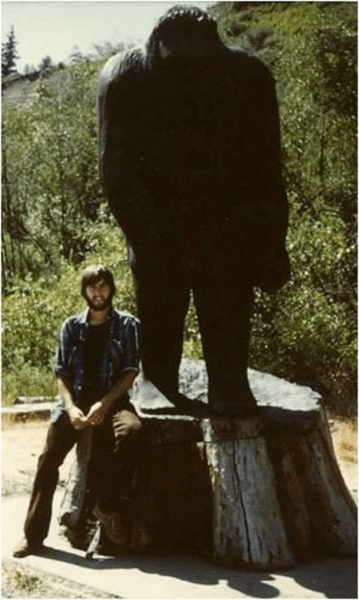 In August 2003, I brought a lifelong dream to life. I wished to share the many items I had collected during the last half of the 20th century with researchers, scholars, colleagues, and the general public.
I had traveled far and wide ~ through passion and patience ~ to interview eyewitnesses, chronicle the reports, and gather material evidence and cultural artifacts related to cryptozoology. Here I am in Willow Creek, California, 1975.
Finally in 2003, I founded and opened the International Cryptozoology Museum in the entire first floor of a house I bought specifically to hold the collection and my family elsewhere, in Portland, Maine. The site was soon visited by a long line of filmmakers, reporters, and a beginning trickle of interested individuals, usually cryptozoologists and authors.
The museum modestly began with sculptures and paintings created just for it, hundreds of cryptozoology toys and souvenirs from around the world, and one-of-a-kind artifacts. These included a life-size, 8 feet tall Bigfoot representation, a full-scale, six-foot-long thousand dollar coelacanth model, 100 Bigfoot, Yeti, Yowie, and other footcasts, fakes like jackalopes, Feejee Mermaid & furred trout.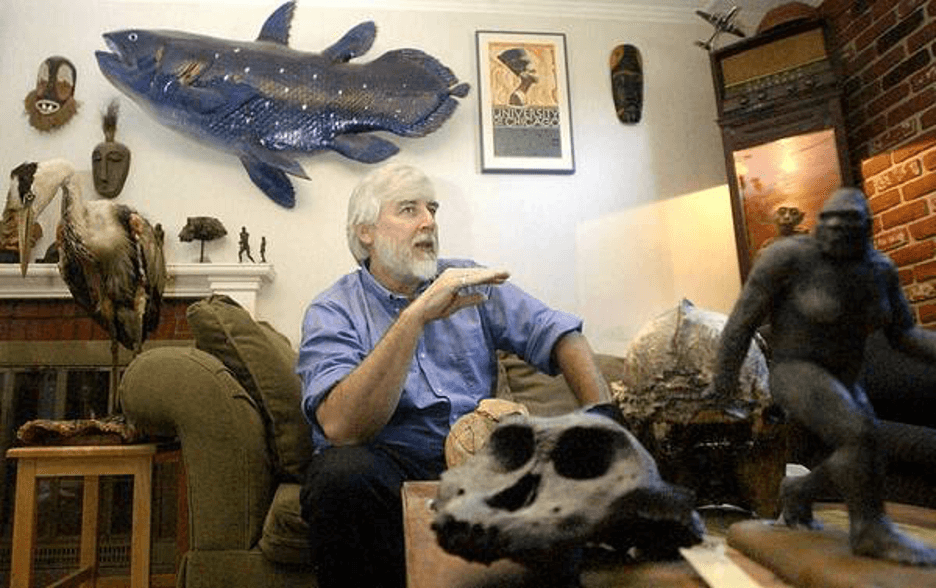 Additionally displayed were Hollywood cryptid-related props as The Mothman Prophecies' Point Pleasant "police" outfit, the movie P. T. Barnum's authentic 3.5 feet tall Feejee Mermaid, the TV series Freakylinks' 22 foot wide "Thunderbird," and some of Magnolia's falling frogs. Special art and sculpture creations by some of the leading cryptozoological artists in the world were featured.
In March 2006, friendships and associations began during the early days of the Museum, including Michelle Souliere's trip to the museum.
The space in my home was being overgrown by the museum. It was time to move.
Finally, in 2009, after noting to associates in Portland that I wanted to move the Museum to a more central location, I was offered space in the back of Michelle Souliere's future new bookstore, The Green Hand. Due to tireless efforts of volunteers, and contributions from scores of people across the world, we made the move. The final fiscal support came from a generous donation from an individual representing the British Columbia Scientific Cryptozoology Club.
The museum, officially registered with the Portland, Maine, town clerk, had a Grand Opening in the Outer Art District, and opened with the help of Michelle, Caleb, and a long list of others, on November 1, 2009. Nearly 100 visitors came that first day, with many traveling from as far away as Boston and Baltimore. A ribbon cutting Opening, chaired by Representative Herb Adams, was attended a few days later by over 200 people.
Although we had a three-year lease with Michelle Souliere, it soon became clear that the one room, 500 square feet, was too small. Due to the fact Michelle's husband wanted to utilize the location, we were able to move to a larger venue, six times as large, right around the corner, at 11 Avon Street, Portland, Maine.
Our Grand (Re)Opening in 2011 hosted almost 400 visitors.
In 2015, we signed a ten-year-lease for a new site, at 4 Thompson's Point Road, Portland, and immediately began fund-raising and construction of a new two-story museum building inside the old railroad repair building known as "Brick North."
The new structure had a ten-foot Bigfoot carving our front, was designed by Archetype Architects, and a souvenir building was made by InTechFocus. We were ready to launch a new chapter of our history.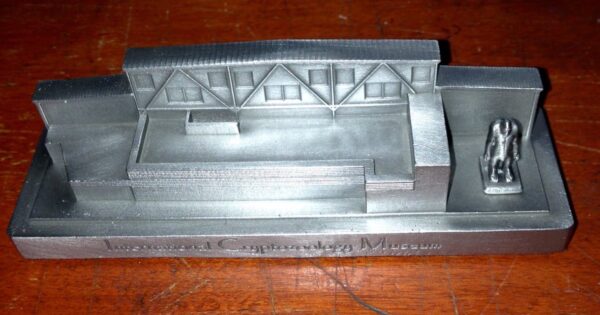 On the July 4th weekend in 2016, we completed our move to Thompson's Point, Portland, Maine, and had yet another grand opening. Patronage increased and the location was magical.
Of course, then 2020 arrived, and we had to close for a few months, rework our sanitization procedures, and reopen with visitor safety at the forefront of our thoughts. These were the times of COVID-19, a once-in-a-century event. Surviving the wave that killed other facilities was a challenge, but we did. We faced the struggle as an opportunity.
On October 1, 2020, we completed an expansion of the Thompson's Point museum site when we moved into the space formerly occupied by Big J's and Locally Sauced restaurants (who had to close due to the pandemic).
We received new acquisitions and did a re-branding of our newly enhanced south-facing entrance. Together, we face the quests of tomorrow, with optimism, as always.