Excited to see us? We're excited to see you too! Planning your visit to the International Cryptozoology Museum is easy. Our facility is located on Thompson's Point. We are just a few minutes by car from downtown Portland, right off 295 coming from the Maine Turnpike (I-95). You can find many other attractions and hotel accommodations in the Portland area.
Our second site is two hours straight north on I-95, off exit 183, in Bangor, Maine.
Hours
The International Cryptozoology Museum in Portland is open year round.
Open 7 days a week (excluding Thanksgiving, Christmas, and New Year's Day)
10:00 AM to 4:00 PM, Seven Days A Week
Our satellite site in Bangor at 585 Hammond Street is open year round, as well, every weekend, F-S-S, 11AM to 6 PM.
---
Address / GPS Data
We are located in Thompson's Point at 32 Resurgam Place, Portland, Maine 04102
Our old address, 4 Thompson's Point Road, #106, will be retained in some google searches, from 2021.
We have been at the same location, off I-295 in Portland, Maine 04102, since 2016, despite the "address change."
In Bangor, we are right off Interstate 95, at the Hammond Street exit (183), at 585 Hammond Street, Bangor.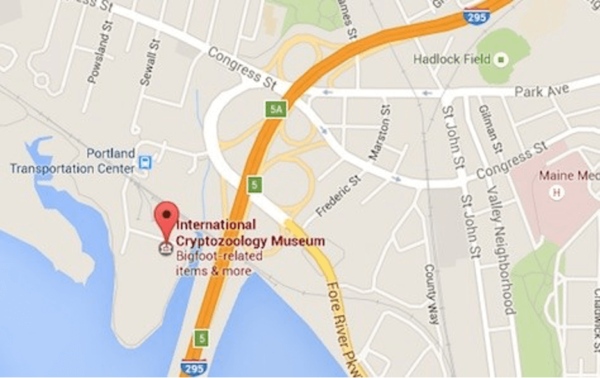 ---
Our Building Entrance
In Portland, look for our sign out front, off the south parking lot, next to the 10 ft Bigfoot at the Museum at Thompson's Point. Our entrance desk is right inside, before the gift store and the exhibits.
The main customer parking lot entrance is the building's front door for the Museum. The space is awesome because we have 32 feet tall ceilings.
The Bigfoot sculpture is your key to what door to use. You will find a "32 Resurgam Place" above our glass window.
---
Transportation
Did you know you can step off the Downeaster Amtrak train or a Concord bus at Portland's nearby Transportation Center, and walk less than a fourth of a mile to our Museum? Or drive your vehicle right off I-95/I-295 and park in our ample lot at our Museum?
Airport: (2.7 miles away) – portlandjetport.org/
Bus Lines (.3 mile away):  concordcoachlines.com/stop/portland-maine/
Train (.2 mile away):   traintomaine.com/station/portland
Portland Walking Trails: trails.org/our-trails/
Parking
At Thompson's Point in Portland, Maine, there is parking on-site near our museum, in an exciting entertainment complex. Thompson's Point is a "Pay to Park" 24/7, 365 days a year. There are kiosks with instructions for  parking on site located around the lots, or you may download the Passport Parking app and follow the instructions there. The International Cryptozoology Museum has no control nor receives any revenue from the parking fees.
---
Age Restrictions
We appeal to all ages. Families, singles, couples, small groups, and large organized groups are welcome.
Admission
Adults, $10, for 13+
Children, $5, for 12 & below
Babies, Free (in arms/strollers)
Because we are a nonprofit, we keep our fees low. Cash or credit cards are accepted.
Gift Store
The gift store is open during normal business hours. We have books, souvenirs, and keepsakes that only found in this museum and through our online store. Many books are autographed. Cash or credit cards are accepted. Prefer to shop online? Visit the online store.
---
Museum Visitor Guidelines
No food or drinks are allowed in the museum.
All photos found online taken by you become the property of the International Cryptozoology Museum.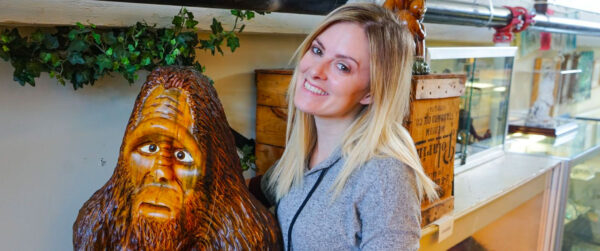 ---
Visitors' Guidelines, Part 2..
Photography is allowed throughout the exhibits. Please consider other patrons when taking photos. You consent to allow us to use your photos in social media and publications, if you post your Museum images on social media. Professional photographers please check in with staff. No video, digital recording, or filming may occur in the museum without the expressed permission of the director or the assistant director.
Cell phones on silence or vibrate are required of all guests. Talking on cell phones is not allowed, and you will be asked to leave, to have your conversation outside, and then granted readmission.
This is a formal collection and archival museum. Touching and handling of items is not allowed. However, we are a kid-friendly, youthful, and adult-oriented educational collection with many levels of enjoyable explorations being encouraged and possible.
---
Local Tips & Other Attractions (check to see if open due to COVID-19)
Restaurants
Thompson's Point is always expanding the eating and dining options. Rosemount Market, Stroudwater Distillery, and Bissell Brothers at TP have eat in choices. During concerts, marketplace, gardening, crafts, antique, and outside events. there are often a variety of food trucks available.
Some (of many) restaurants and shops in the Old Port (3.3 miles away)
Otto's Pizza (3 miles away): ottoportland.com
Two Lights Lobster Shack (Traditional Maine Lobster Shack) (10 miles away): lobstershacktwolights.com
Eventide Oyster Co. (3 miles away): eventideoysterco.com/
Old Port / Waterfront Area with many choices of cuisine (3 miles away): oldport.com
Coffee & Donuts
Rwanda Bean at Thompson's Point.
Tony's Donuts (.5 mile away): yelp.com/biz/tonys-donut-shop-portland?osq=everything
Holy Donut (1.5 miles away): theholydonut.com
Coffee by Design (2.5 miles away): coffeebydesign.com
Ice cream & Frozen Yogurt
Mount Desert Ice Cream (3 miles away): mdiic.com
Gorgeous Gelato (2 miles away): gorgeousgelato.com
Things to do 
Portland Children's Museum (across from us at TP): kitetails.org
Longfellow House (3 miles away): hwlongfellow.org
Portland Museum of Art (2.5 miles away): portlandmuseum.org
Victoria Mansion (2 miles away): victoriamansion.org
Cruises (3 miles away): cascobaylines.com & portlanddiscovery.com
Portland Headlight & Fort Williams Park (7 miles away): portlandheadlight.com & fortwilliams.org
Baseball – Portland Sea Dogs at Hadlock Field (1 miles away): seadogs.com
Basketball – Portland Red Claws (1.5 miles away): maine.dleague.nba.com/
Fore River Sanctuary (1.5 miles away): trails.org/
Shopping
Exchange Street & Old Port Shops (3 miles away): portlandmaine.com
LL Bean and outlet stores (19 miles away): llbean.com , onefreeportvillagestation.com
Maine Mall (4.5 miles away): mainemall.com
Places to Stay
Inn at St. John (2 miles away): innatstjohn.com
Clarion Hotel (.5 mile): clarionportlandme.com
Morrill Mansion B&B (1.5 miles away): morrillmansion.com
Other great resources
State Theatre Concerts at Thompson's Point:  statetheatreportland.com/thompsons-point-listing/
Daily Events Calendar: calendar.mainetoday.com